Posted: Thu, 11th May 2006, 12:54am
Post 1 of 7
Rating: +4
Hey there. I was messing around with effects lab the other day and I came up with a way to mask filters (You would call these "Garbage mattes" in Composite Lab but it may not work to mask around people like you would to replace a back ground.)
First off what you need to do is open Effects Lab and then pick out a file that you want to edit ofcorse. We will just be using a image for our example it would be diffrent using video like keyframing masks and the filters you use.
Ok now lets get started. If you are going to color grade on your shot please do that first then now what you will need to do is in your time line ounce you are done go down in to the time line and copy your video show in the image below.
Next paste your copy of your video on top of your copyed video like the image below.
Now in our image we are using a light saber but you can also do reflections from gun shots, explosions, fires etc. Now right now you can add the effects you want to your video. The image below is what we got so far.
Now to be easyer to see where you want your mask to go I sugjest you turn off your effects untill you are done masking like the pic below.
Now we are using a blue light saber so we have some settings to make a reflection on the face of our actor. Do the color grading that you want to add a mask to in the second video on top of your first video like the image below.
And the image below is what our settings are.
Now ounce you got done color grading now its time to do some masking. What you should do is go in to your second video and go to masks like the image below.

Now draw your mask where you want the color to be like we want it on our actors face like it was a reflection from a light saber on his face. We have it drawn like this on the image below.
Now a few of the most important parts of this tutorial the masks settings. We need to make sure you invert masks shape and add a little feather to the mask to make it look realistic. Look at the image below a look at its settings.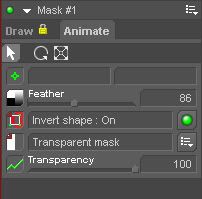 And now you are done this is what the effect looks like with out the light saber effect.
And now lets add back our light saber.
Now that looks pretty good. This tutorial is not just ment for light sabers it can also be used for gun shot reflections, fires, explosions and well really anything you can think of
. I hope this helps effects lab users and I hope you enjoyed this tutorial.