Posted: Fri, 29th Feb 2008, 12:21pm
Post 1 of 65
For those interested in volunteering their time for visual FX work, please no negative criticisms. Yes this is a not-for-profit project, and although no money is being made off of this we plan to handle this as a art showcase and will be presenting this at various conventions upon completion next year. So we'd like to feature those whom would like to be a part of this.
This is a side project of ours, we only ask those who wish to help out on our ambitious endeavor.
JHM Productions presents
Based on the characters and films of Akira Kurosawa and George Lucas, Our tribute to the great filmmakers of the sci-fi, action genres,who inspired me to follow my dreams to a galaxy, far, far, away…
Currently at 60% filming completed, in Honolulu, Hawaii.
[Story Synopsis]
The story takes place ten years after the events of Episode 3-Revenge of the Sith.
After episode 3 ended, we know that all Jedi are extinct by the time of episode 4, and opens the door to our story, for these seven characters that survived the purge, so our characters will be new ones I have written and will focus on their fight against evil forces (not imperial, till the end at least).
Our story focuses on a gifted young girl and her mysterious father as they set out on a quest to find warriors to defend their planet from the invading marauder army. The marauder's pillage and purge the peaceful villages, reigning terror and destruction in their path. Lead by a mysterious dark warrior who instills fear in the eyes of all who encounter him.
On their quest to find those that will defend them, they come across an assortment of characters, which turn out to be Jedi in hiding. So they gather others in hiding who will fight. They come to aide the people,training them and building defenses as they get ready for the final battle against the marauders army, but their paths will soon collide with an even more terrifying threat…
Will be needing an assortment of visual FX work, roto-scoping, cloning, backgrounds, 3D environments, etc.
I will be posting up storyboards and screen grabs of various scenes and technical details on what will be needed.
Will be showcasing 9 different worlds in the film.
Majority of the film takes place on Dantooine.
Here are some pics of the various characters and scenes to give you a heads up and give you an idea of the look and feel we will have for this film. Those of you familiar with the Original Kurosawa classic will note the attention to detail we emphasized on the re-imaging of this classic.
Main movie posters
Comparison shot of the original "Shichinin no Samurai" (Seven Samurai)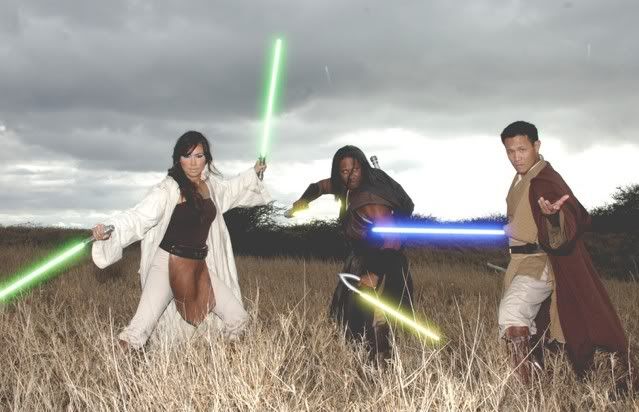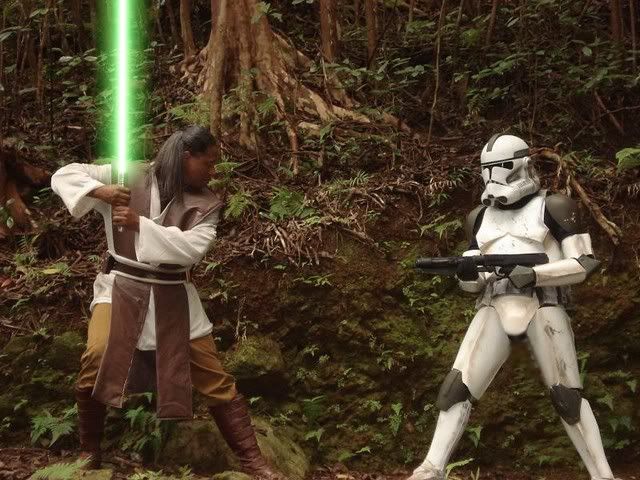 Opening sequence storyboard of Marauder ship landing as witnessed by main actress(Kiri)
screen grab from one of our "Order 66"flashback sequences aka "Rambo" homage
Another "Order 66" flashback sequence aka "Saving Private Ryan" homage
Will have more to come, stay tuned.
Please feel free to post your fancy and your contact info if you are interested in helping out on this project.
Mahalo nui loa(thank you very much in Hawaiian)
Keoni
JHM Productions