Posted: Tue, 18th Aug 2009, 8:10pm
Post 1 of 865
EDIT:

THEATRICAL TRAILER: http://movies.yahoo.com/movie/1809804784/trailer
Teaser:
480p
720p
1080p
According to
apple.com/trailers
right now it is exactly
1 day, 17 hours and 50 minutes
until the teaser trailer comes out exclusively on iTunes and I feel jittery all over. It so much sooner than I thought, but Fox are going in high gear now to build up
Avatar
's name to heights that they hope will have every average movie-goer as brainwashed as I am that the film will be the most awesome thing ever. Still as close as it is, I feel I can hardly wait that long. Like a little child on Christmas Eve.
A quick overlook of the premise for those of you that haven't been following this film:
A sci-fi movie from 20th Century Fox, "Avatar" centers on a wounded ex-marine, who is thrust unwillingly into an effort to settle and exploit an exotic planet rich in bio-diversity, and eventually crosses over to lead the indigenous race in a battle for survival.
Also we have a new picture to watch while we're waiting. Here we see the main character Jake Sully (Sam Worthington) in the foreground with his Na'vi Avatar in the background suspended in some sort of Star Wars like
Bacta Tank
.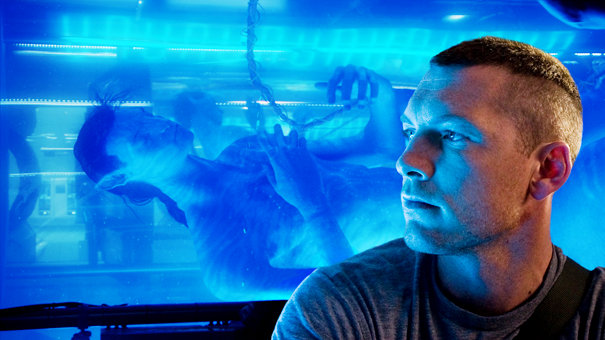 Also for those of you
(lucky bastards)
who are based in The States or Canada:
20th Century Fox has come out with the ticket detail announcement for the scheduled Avatar day. For the free screening of fifteen minutes of "Avatar" on August 21, the studio will be giving away free first-come, first-serve tickets through the official Avatar website, AvatarMovie.com, starting on Monday, August 17 at noon PST.

The screenings will be taking place in 101 IMAX venues in the U.S. and Canada and will be run twice at 6:00 P.M. and at 6:30 P.M. The sneak peek itself will include an introduction from the director, footage shown at screenings at exhibitor events in Hollywood and Amsterdam, and some new footage that were not shown at 2009 San Diego Comic Con.
Might seem like a desperate tactic, but let's not forget that non-franchise movies never cost
this much
unless they are a sequel, and what all the money was used for, in this case, cannot be portrayed in TV Spots. It's an excellent word of mouth tactic. At least it's shows that they are confident about the footage, and that a Pantom Menace type of let down might yet be unlikely. I, for one, (who has been ranting about this movies greatness to anyone who would listen for about two years now) am waiting to see what kind of hype Fox will have built up by early December, and how. I think such an expensive and out-of-nowhere brand building has rarely been done before in film (any examples would be welcome), and the politician in me can't wait to see just how much you can influence people with the right kind of funding.
We'll see.
Last edited Thu, 17th Dec 2009, 2:38pm; edited 8 times in total.